September 08, 2023
Webuild grows in Australia with expansion in maritime sector: Clough jv wins AU$420 mln contract
Project to build biggest shipflit in Northern Territory
Project to boost Darwin's role as hub for marine maintenance and servicing 

Facility to serve commercial and private vessels, along with the Department of Defence
MILAN, September 8, 2023 – Webuild grows once more in Australia with its expansion into a new sector following Clough, its Australian subsidiary, and joint-venture partner BMD winning a AU$420-million construction contract for the Darwin Shiplift Facility. The project will consolidate the coastal city's position as a hub for marine maintenance and servicing in the Northern Territory. The facility, with wet berths and a hard stand area for ship repair and maintenance works, will also serve the Department of Defence, along with commercial and private vessels from the fishing, oil, gas and marine industries. Clough and BMD each own 50 percent of the joint-venture.
Commissioned by the Northern Territory government, the Darwin Shiplift Facility will be the biggest in territory. It will be 26 metres wide and 103 metres long. It will have the capacity to lift vessels weighing up to 5,500 tonnes, including the new fleet of offshore patrol vessels procured by the Australian Defence Force. The project is to be completed in July 2025. 
Located in the East Arm precinct, between the Marine Supply Base at the Port of Darwin and the multi-user barge ramp facility at the Marine Industry Park, the facility will reinforce Darwin's marine maintenance and servicing activities and create spin-off benefits for local businesses. Darwin has the only functional deep water harbour in northern Australia. Without the shiplift facility, large vessels would need to travel approximately 10 days or more to be serviced elsewhere. 
Australia is Webuild's biggest market after Italy. Projects in the country include the construction of the largest urea plant in the country for the production of fertilisers, the upgrading of the largest wastewater treatment plant in Western Australia, the development of part of the Sydney Metro-Western Sydney Airport rail line, and the tunnelling work for the North East Link, the missing section of Melbourne's beltway.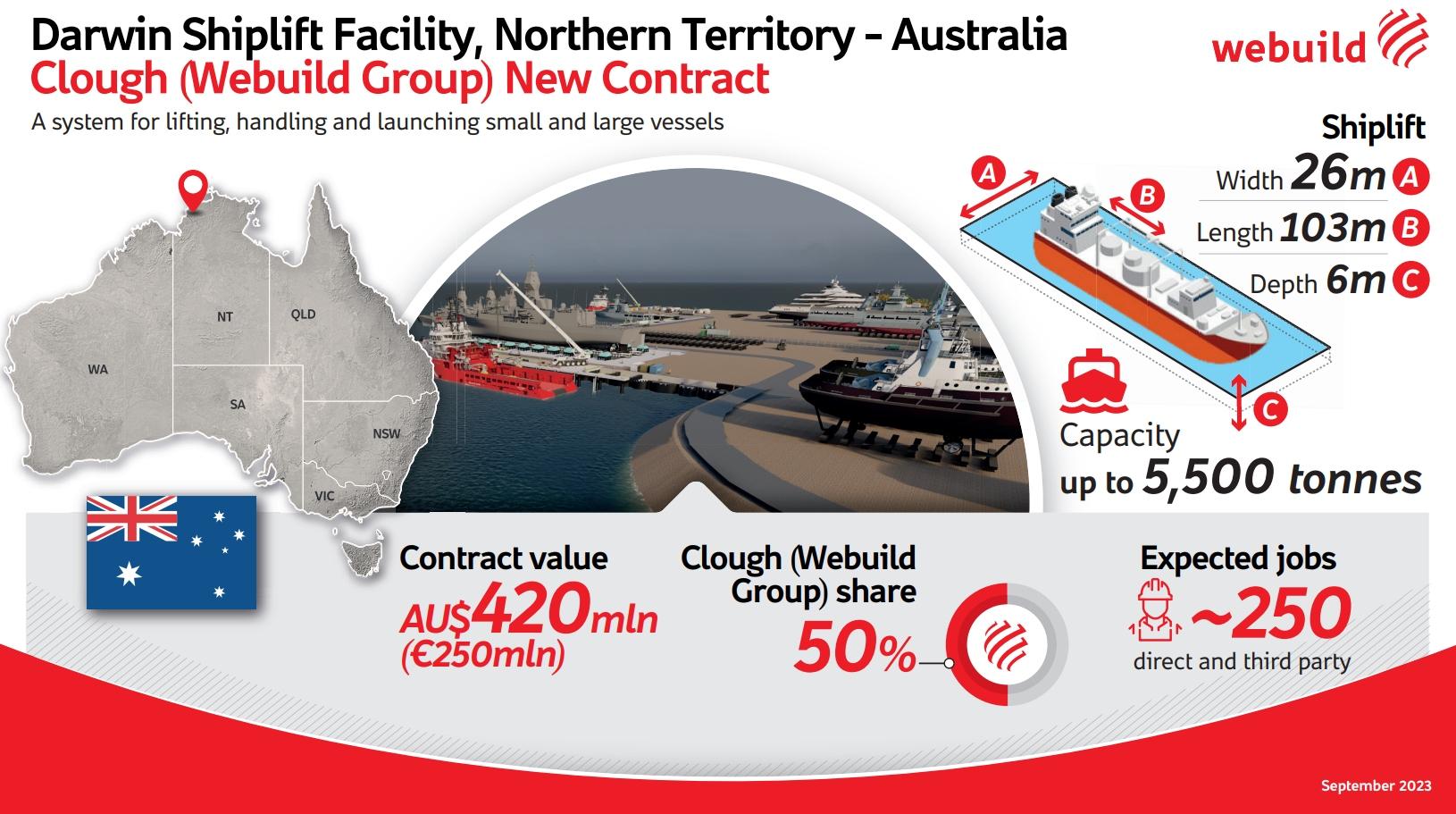 Webuild grows in Australia with expansion in maritime sector: Clough jv wins AU$420 mln contract
Information material - Bridge project over the Strait of Messina