Meet the Team
Meet Carlos Zapico, Tunnel Boring Machine (TBM) Manager at Webuild!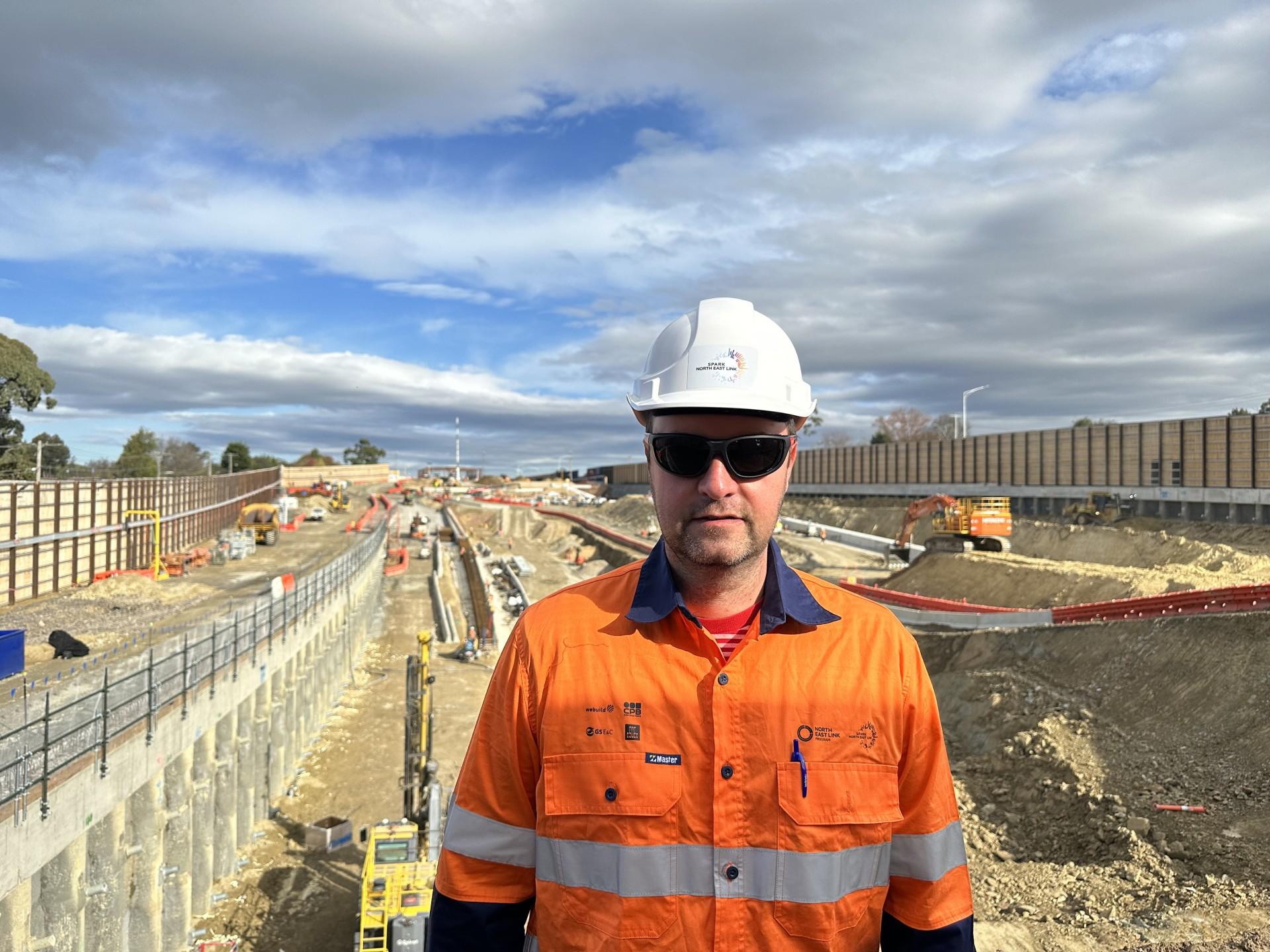 Carlos moved to Australia in 2016 to join Webuild's Forrestfield Airport Link Project in Perth, Western Australia and since then had the opportunity to join the Snowy 2.0 project team in New South Wales where he worked for over two and a half years, before taking on his current role on the North East Link (NEL) Project in Melbourne! 
"I grew up in a mining family; my father was an mining engineer and my grandparents were miners. I'm from a region in Spain where we had a lot of coal mines and so I kept with the tradition of working in mines, and I worked half of my life in underground projects. As the number of mines became less and less I moved into the next closest thing which was tunnels. I've become a specialist in tunnelling and worked for a number of different companies from doing tunnels with drill and blast to tunnels with tunnel boring machines (TBMs). 
"My current role on NEL is TBM Engineering Manager and I'm helping with the planning and procedures before the first TBM arrives later this year. We're in the early stages of the project but once the two TBMs arrive, I will be following along the production of both of them as the TBM Manager." 
Carlos is an engineer by profession and since he started working in tunnelling, has worked with 17 TBMs on projects in Spain, Malaysia, Qatar and Australia. 
"When a project gets a new TBM, it needs to go through a factory acceptance test before it is disassembled and delivered to us on the project. I've recently returned from China where I took part in the factory acceptance test for the TBMs, and I did the same when I was on the Forrestfield Airport Link project. 
"The Forrestfield Airport Link project was unique, we were mining with two TBMs under the airport, including the two runways, whilst the airport was in full operation. We were in constant coordination with the airport authorities to communicate the location of the TBMs so they could manage the planes in the terminals and avoid them being directly on top of the TBMs as much as possible.
"One of the highlights of my career overall was working on a project in Barcelona, it was a high speed tunnel and train that ran under La Sagrada Familia, it was very iconic - TBMs' mining directly underneath a historic site is not something that happens every day. Another highlight was on a different project I worked on in Qatar, I got to be part of a Guinness World Record for the most TBMs mining at the same time in the same city!" 
With the NEL project, Carlos will be part of another major tunnelling feat, this time for delivering the longest road tunnel in Victoria. Working in tunnelling requires immense technical capabilities, attention to detail, and according to Carlos, most importantly, passion.
"If you're interested in working in tunnelling, I would say you need to have a passion for it, especially with TBMs. For me personally, I like to think of it like you have a new car, the first thing I do is learn about and memorise the technical specifications of the TBM, which is different from project to project, learn about the ground conditions it will be working with, learn about things that you can improve or upgrade. Without passion, any job can become repetitive." 
Working in Australia provides an amazing lifestyle and work culture Carlos says; he especially loves the lush parks and gardens and was delighted to see barbeques you can gather around, the active lifestyle of running or cycling in beautiful cities, and going for a beer after work with colleagues and mates. Working on the NEL project means Carlos gets to go home to his family each night, and they are definitely enjoying the Melbourne life. 
"What I love about Melbourne is that it's a big city, full of culture. There's always something to do, whether you want to explore different sites or just walk around the city, there's lots of cool things to see hiding in laneways - I love the graffiti art, and like many others, all the restaurants and cafes. It's great that the NEL project is here and I definitely enjoy working on it, I would recommend it to anyone looking for a new challenge." 
About the North East Link Project 
Webuild, as part of the Spark Consortium is delivering the North East Link Primary Package in Melbourne. The project scope includes the design and construction of twin three-lane tunnels approximately 6.5 kilometres long, and other related works. Once complete, it will be the longest road tunnel in Victoria, providing an essential link in the city's freeway network, reducing congestion and travel times for tens of thousands of motorists. The project will enable a more sustainable future by taking 15,000 trucks off local roads every day and reducing trave times by up to 35 minutes for commuters. The consortium will be responsible for the operation and maintenance of the freeway for 25 years after completion of the work.
Meet the Team – North East Link Project | Carlos Zapico
Information material - Bridge project over the Strait of Messina