October 12, 2023
Webuild: Airport Line in Perth wins award for project excellence in Australia
MILAN, October 12, 2023 – Webuild has won a 2023 Earth Award for project excellence from the Western Australia chapter of the Civil Contractors Federation for the Airport Line, the rail line built by the Group and its joint-venture partner NRW in Perth, Australia. 
The award in the category for projects worth AU$150 million or more means the project is a finalist at the National Earth Awards on November 10. It also comes after one of the line's three stations, the Airport Central Station, won an award for excellence in design and architecture from the Australian Institute of Architects. Other recognition received by the line have included the "As Built Leading" rating – the highest classification from Australia's Infrastructure Sustainability Council, and an award for Excellence in the Technology and Innovation Category by the Western Australia branch of the Concrete Institute of Australia in 2019.
Formerly known as the Forrestfield-Airport Link, construction of the 8.5-kilometre line from the eastern suburbs to the city centre via the airport involved two tunnel-boring machines excavating under Perth Airport's runways, from High Wycombe to Bayswater, reaching approximately 27 metres below ground at its deepest point. The TBMs each spent approximately 900 days underground, placing more than 9,000 pre-cast concrete tunnel lining rings that had been manufactured at a local facility.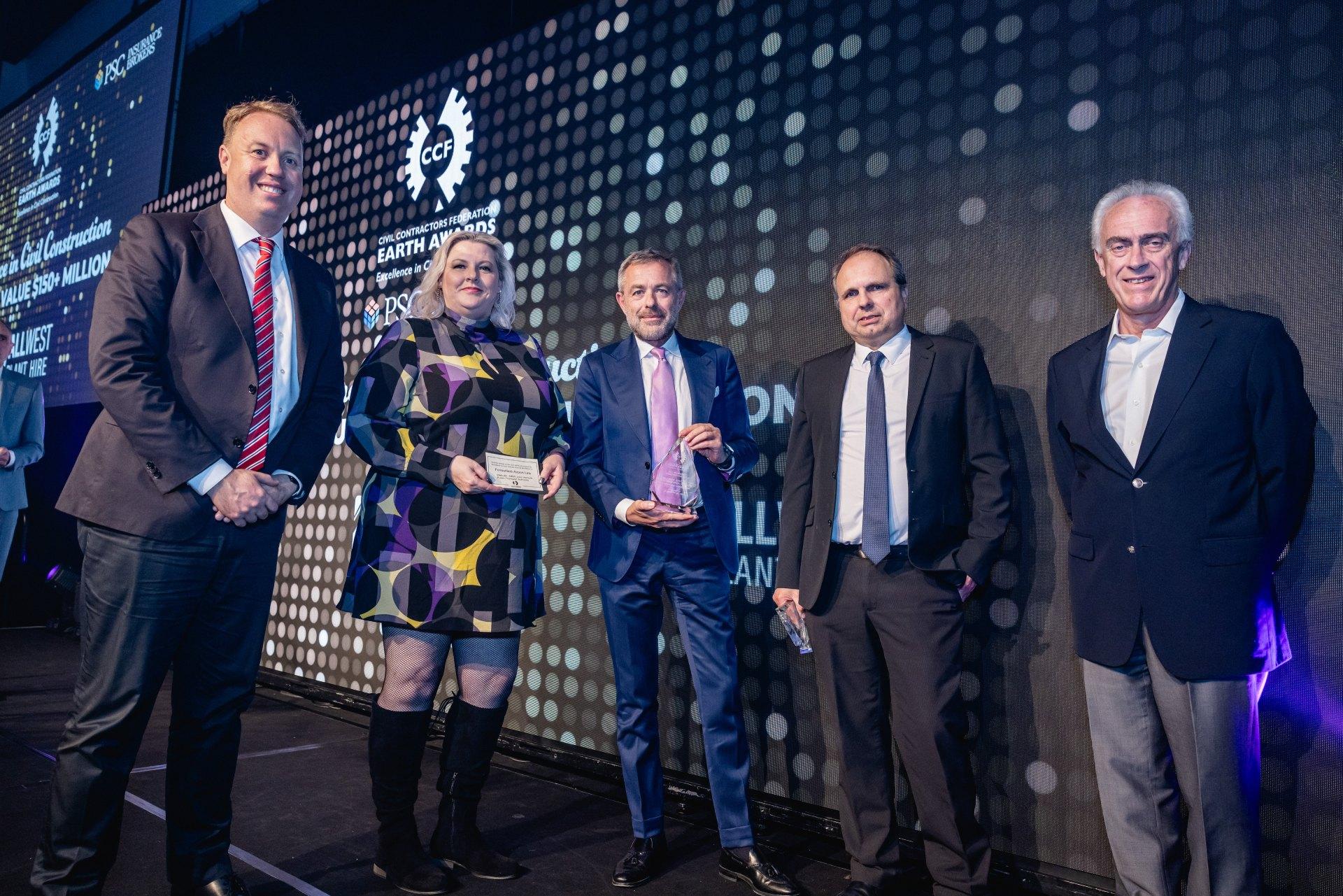 Civil Constructors Federation Western Australia - In the photo: Marco Assorati, Webuild Executive Director APC, (middle), and Richard Graham, project manager (far right)
Webuild and its Australian subsidiary, Clough, are expanding in the country, the biggest market for the Group in terms of order backlog outside Italy. In Western Australia, it has started work on one of the world's largest urea plants for the manufacture of fertiliser, as well as work to upgrade a sludge treatment process at the state's largest wastewater treatment facility.
In Melbourne, it is preparing to excavate the tunnels for the North East Link, a section of a freeway network in Melbourne. In New South Wales, it is developing Snowy 2.0, the largest hydropower project in the country. In Sydney, it is participating in the development of the Sydney Metro line that will lead to the Western Sydney International Airport, the largest public-private partnership in the state.
Webuild: Airport Line in Perth wins award for project excellence in Australia
Information material - Bridge project over the Strait of Messina